Easter Island Casino Games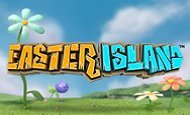 Go on a tropical getaway in Easter Island UK Slot, where a pair of fun-loving moai statues reward many exciting payout opportunities. These Moai are on either side of the reels, showing the sunny green island, and can suck in any low value symbol leaving only those of high pay. Symbols include the island animals: an eagle, fox, frog, and lizard as well as a Wild skull. The flowers grow over 5 reels, 3 wagering rows, up to 103 ways to win, a 96.1% RTP, and a 10 to £200 bet range. The Bonus includes stretched Wilds on the 2nd and 4th reel with a respin, with a top prize of 47,000 coins.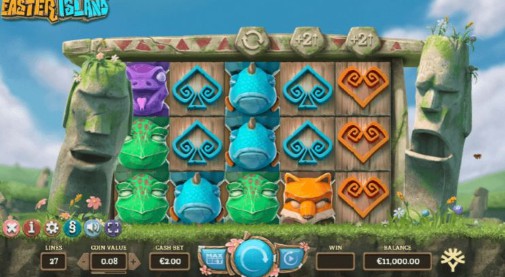 Fruitoids Casino Games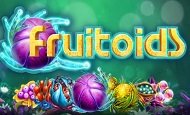 Savour the juicy rewards in Fruitoids Online Slot, as these strange but delicious looking alien fruits never rot. The backdrop shows a hazy greenish planet with symbols of the different fruits of all shapes and sizes. Make an extra-terrestrial smoothie (a smoothET) by mixing the 5 reels, 3 wagering rows, 25 payways, a 96.7% RTP, and a 25p to £150 bet range. The Collapsing reels set-up means that any win formations disappears and is replaced with more symbols, therefore creating multiplier potential wins or respins on a single bet and this also comes with a multiplier up to 5x. The jackpot is an incredible 62,500 coins.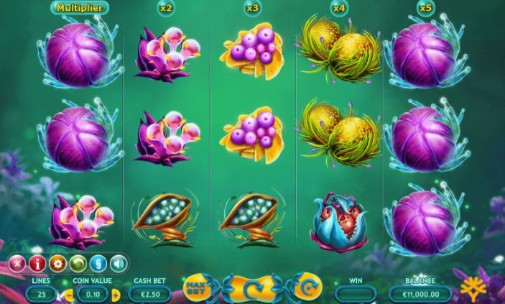 Rainbow Ryan Casino Games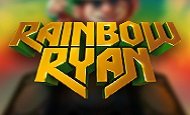 Stir up a Guinness jam in Rainbow Ryan Online Casino, where a rocker Leprechaun shows off a guitar solo to the tune of exciting rewards. The reels are set on stage with a grinning Ryan playing sweet chords and players are up close in the audience. Symbols include a top hat of coins, boots, a microphone, a beer, a Wild and a Bonus. From a 6 string to 6 reels, 4 rows, 4,096 payways, a 96.3% RTP, and a bet span between 10p and £100. Ryan can randomly create synched reels for matched symbols on the 2nd and 5th reel. The Bonus awards up to 20 Spins with 2 synced rainbow reels, with the chance for all 6 reels to match for an amazing jackPOT of gold prize.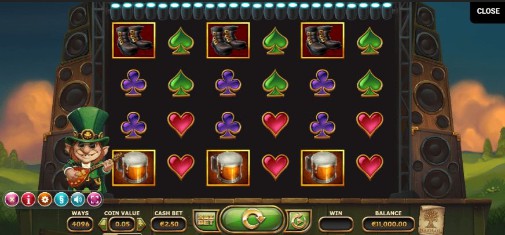 Penguin City Casino Games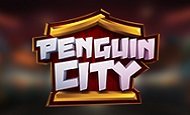 In Penguin City UK Casino, help clean up a food stall in a bustling Asian marketplace for the many thrilling chances to win real money. The reels are set against a messy food kiosk, where penguins pass by window shopping. Symbols are of food boxes, soya sauce, noodles, and an Emperor Penguin Wild that can be as stacks on the reels. Pick up with your chopsticks 5 reels, 3 wagering rows, 242 payways, a 96/2% RTP, and a bet span between 10p and £125. On reel 2 and 4 the regular Wild will be stuck for the following spin. The 'Penguin Escape' Bonus involves the penguin cooks fleeing the kitchen for rewards and are only stopped by the stacked Emperor Penguin Wild on the middle reel for a major final prize.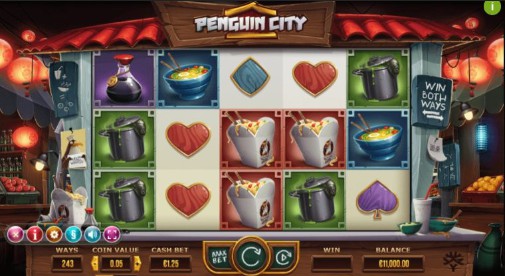 Baron Samedi Casino Games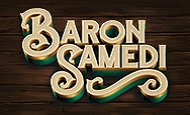 Experience voodoo magic in Baron Samedi Online Casino Game, as players become enchanted with the numerous rewards on offer. Behind the reels appears a card table with a lit cigar, ice clinking in a cup, a candle, and animal bones. Symbols are of the top hat wearing Baron Samedi, his wife, different voodoo dolls, a Wild, and a Scatter. The swamps of New Orleans flood the 5 reel, 3 rows, 25 paylines, a 97% RTP, and a wager span between 10p and £125. The Voodoo Re-Spin Bonus involves up to 15 Free Spins and 3 dealt feature cards of Wilds, a Mystery symbol, multipliers, or stacked symbols, with the ultimate prize of a 25,000 coin win.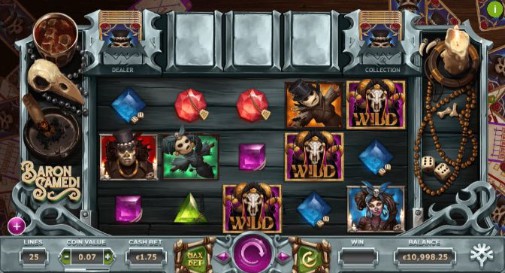 Troll's Bridge Casino Games
On a stroll to the castle, players encounter a wooden barrier guarded by an ungainly yet colourful gang in Troll's Bridge UK Casino Games. The symbols consist of the various trolls with different expressions and personalities, that embarrassingly fail at attacks when they form wins (such as hitting themselves in the face). There are 5 reels, 3 wager rows, 20 paylines, up to a 96.3% RTP, and a 20p to £100 bet range. There is a Bonus bowl that grants up to 1,000 coins or 10 Spins with a choice of 5 featurettes. For a Spin that doesn't win, a stone can reward 1,000 coins or up to 5x. The Bonus involves a max 10 Free Spins with 5 Features of randomized Wilds, troll stacks, multiplier wins, or a golden bet addition choice.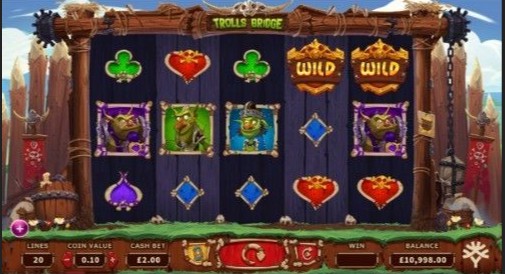 Vikings Go To Hell Casino Games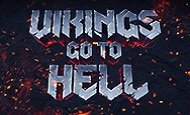 Paint your face in woad and scream your fiercest battle cry in Vikings Go to Hell Casino Games, where many rewards can be slashed out. The backdrop depicts a hellish environment with fire and lava on brimstone. Symbols include the different Viking warriors ready to battle the demons as well as various weapons. The path to hell goes over 5 reels, 4 wagering rows, 25 paylines, an RTP of 96.1%, and a 10p to £125 bet range. A treasure chest can appear on the 5th reel for a good or epic award of a max 16 Spins with a top 1,200 coin prize with a Rage Boost. During the round, another Treasure chest retriggers 3 Spins, 2 randomized Wilds, and a Wild reel stack. A demon battle occurs over a respin with a stick Wild and this progresses to higher levels on a rage meter for Berzerk mode multiplier and spin win.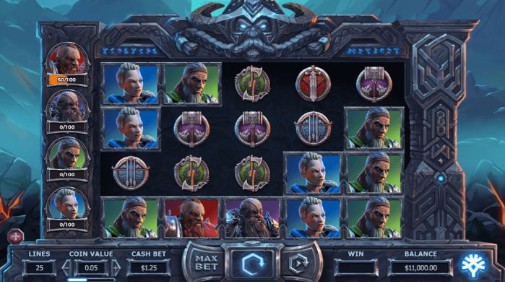 Seasons Casino Games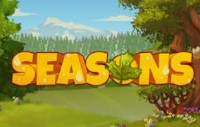 Experience an entire year in just a handful of spins in the gorgeously designed Seasons UK Slot Games, where you can hibernate or bask in the sun of generous payouts. The backdrop to the reels shifts from the 4 seasons of winter, spring, summer, and autumn, from falling snowflakes to leaves. Symbols are of different seasonal associations such as a strawberry or pinecone as well as 4 various animals – the winter hare, the spring owl, the summer deer, and the fox of autumn, and each of these animals wander the reels for their season. When they do, they'll reward multiplier up to x10. The Bonus grants a max of 30 Free Spins with these animal Wilds becoming more active.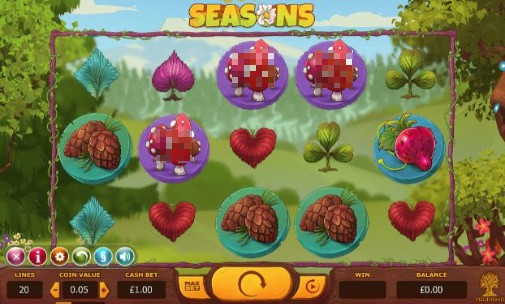 Summary
All these Top 8 Yggdrasil UK Casino Games can be discovered at Kongcasino.com. To recap, these are: Easter Island, Fruitoids, Rainbow Ryan, Penguin City, Baron Samedi, Troll's Bridge, Vikings Go the Hell, and Seasons.