Well, here we are, already at the tail end of 2019. Where does the time go? Well, if you're a fan of UK online slot games, it goes on playing some of the most exciting, captivating and rewarding online slot casino games right here at Kong Casino. Now, we know what you're thinking. With a catalogue of casino games as extensive as the one we've got right here then it can be hard to know where to start. Well, we've got you sorted, as always. We've delved deep into the numbers and we've picked the 5 most popular casino games our players have been enjoying in 2019 and collected them into this handy list! If you want guaranteed fun and the promise of some big wins stay right here and find out exactly where you can get them!
 Bonanza Megaways by Microgaming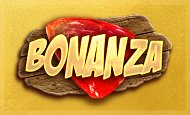 First up is this cheeky little joint effort from Microgaming and Big Time Gaming. Bonanza Megaways Online Slot is a casino game that is equally entertaining as it is unusual and you're taken on a wild ride from the very start! And thanks to the Megaways game engine working behind the scenes, you could benefit from an unbelievable number of paylines. In fact, let's take this opportunity to have a look at the numbers that make Bonanza Megaways tick: layout: 7x8x8x8x8x7, paylines: Up to 117,649 ways to win, betting range from 2p to £500 and RTP 96%. When you hit the letters G-O-L-D across the reel you'll trigger the free spins round. That's right, if you spell 'gold' then you can literally strike gold thanks to those free spins. First you'll get 12 free spins. And if you hit the scatter symbol on one of those free spins, you get 5 more free spins! But really, it's all about the multipliers in this game! When you're in free spin mode, you're taken off to the deep, dark innards of the gold mine itself. Then you'll play your free spins, which all sounds standard enough, right? Well, that's until you realise that when you get winning spins in a row in free spin mode, you then get a multiplier that increases by 1 with  every win. So, basically, your chances to increase your winnings knows no bounds. Of course, being powered by the Megaways engine ratchets up the tension and winning possibilities of this game, so if you love a high stakes game then this is definitely one to get involved with. The volatility is mountainous (just like that game's setting) so if you can hold your nerve, Bonanza Megaways will certainly reward you!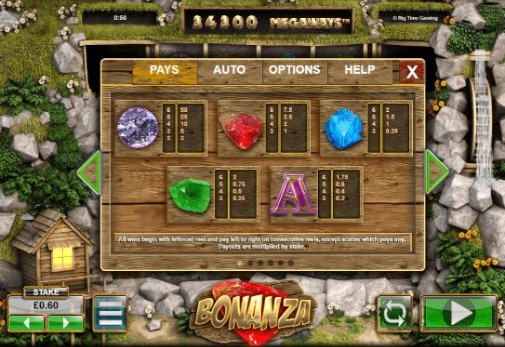 Easter Island by Yggdrasil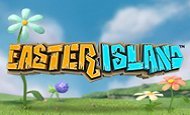 The mysteries of Easter Island and their ancient, giant sculptures continue to fascinate and intrigue to this day. Which makes it a perfect setting for the excitement of an online slot casino game, right? That's just what developer Yggdrasil have done with our number 4 entry in our top 5 list. First up, the all-important stats! 5 reels, 3 rows, between 27 and 103 paylines. Play from 10p to £200 per spin and RTP 96.1%. The tropical, Pacific theme of the game is rendered really nicely by the design team here. Giant sculptures inspired by the famous Easter Island heads tower beside the reels. The whole scene is given a pop of colour thanks to lush, blooming flowers too! But what about the bonus features? Let's find out how you can top up those wins on Easter Island! During normal play, if you hit a win on the reels then you'll get a respin, but it will be packed full of the higher value symbols. Nice! Then you've got the expanding reels, which will bump up your paylines (which explains the variable paylines in the stats above!) Get a 4 of a kind win and you're bumped up to 65 paylines. Get 5 and that's where the tasty 103 paylines comes into play! Easter Island UK Slot is all about those expanding reels and bumped up paylines. Yggdrasil have played a blinder here, because what looks like a fairly standard, albeit gorgeously designed slot, is taken to another level thanks to inventive ways to give you even bigger wins!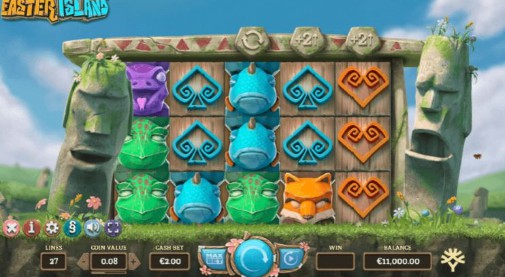 Shaman's Dream by Eyecon
We'd bet that you've heard of Eyecon's Shaman's Dream Online Casino at least once before now. Arguably one of the most famous and popular UK online casino slot games there is, from this already very prolific studio. Discover the mysteries and traditions of Native America with this action packed game. What do the numbers say? 5 reels, 3 rows, 25 paylines. Play from 25p to £12.50 and RTP 95.4%. There's loads of free bonus features packed into Shaman's Dream, probably more than we could justice to in a short blog like this. But that's all part of the fun of discovering what this game has to offer! But it's worth talking about a couple that, we think, are the most exciting. The symbols on the reels are all taken from the rich tapestry that makes up the Native American tradition - from wolves to feathers. But it's the dreamcatcher that you want to keep an eye out for is the dreamcatcher, which is the scatter symbol here. But it'll nab you 15 free spins if you land on 3 or more of them. We'd say that's pretty special for a simple scatter. It doesn't end there though. Any wins you spin in those 15 free games will be tripled and you can retrigger the free spins round 15 more times. And if all that is not enough for you, you've also got a double or nothing gamble option - so if you want to risk it all for a chance at glory then this is the option for you!
 Wolf Gold by Pragmatic Play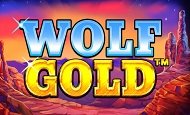 We're staying in the world of Native American mythology with our number 2 pick in our top 5 rundown, with Wolf Gold by Pragmatic Play. Packed with free spins, multipliers and a scatter, Wold Gold UK Casino really is a prime example of good, traditional online slots being made well and looking gorgeous. So, how does Wolf Gold stack up? Let's look at the stats: 5 reels, 3 rows, 25 paylines. Bet from 25p minimum to £125 maximum and RTP 96%. So, clearly, you've got a nice wide betting range so all playing styles are well catered to. And thanks to being birthed from the Pragmatic Play studio, you know this one looks gorgeous and you can take it anywhere with thanks to being mobile optimised. A great start. Let's have a look at those winning opportunities though. Keep a look out for the red rock, lit by the sunset, because that's the game's scatter and it triggers the free spins round if you land the rock on reels 1, 3 and 5. Which is pretty standard stuff really. But, it's during these free spins that you get to activate Wolf Gold's best feature, and that's the money respin. If, on a free spin, you land 6 golden money symbols, you'll activate the money respin. What's so special about it? Well, your first, third and fifth reel merge to create a triple multiplier. Pragmatic Play are really treating us with this one! And with a medium volatility and a very respectable RTP of 96%, if you stick it out, you're going to be rewarded with tripled wins. 3 really is the magic number, but this one is so good, it's a worthy number 2 pick!
 Hot Safari by Pragmatic Play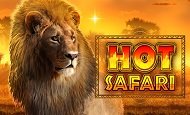 Pragmatic Play are back in the top spot in our countdown of the top online slot casino games right here on Kong Casino. This time, we're travelling from America to the sun-drenched planes of the African savannah for a safari hunt that leaves majestic beasts untouched, but instead we're on the hunt for big wins… and this safari surely pays off! First up, it's safari stats: 5 reels, 3 rows, 25 paylines. Bet from 25p to £125 per spin and RTP 96.17%. There's a whole host of safari-themed online slot casino games out there. So what is it about Hot Safari Casino Game that makes it our number 1 pick? Well, how does an extra 6th reel and a 10 time multiplier sound to you? Yep, pretty tasty we know! Oh, and you could win up to 4,000x your original bet. Beginning to see what we mean now? So, the 6th reel is a multiplier reel. So when you win on the main 5 reels the sixth reel kicks into gear and gives you a multiplier of that win from anywhere between 2 and 20 times your winnings! And, if you're on safari for the biggest wins possible then keep an eye out for the king of the safari himself - the lion! Get 5 lions in a row across the reels and you can up to 100,000x your initial stake. Yep, this safari is hot and it's gearing up to give you some sizeable coin. Get playing!