We're going to make a big claim, here. We would bet good money that there isn't an casino games casino player out there that hasn't played at least 1 Pragmatic Play video slot before, whether they realise it or not. Pragmatic Play is one of the heavy hitters. With flawless graphics, a mix of themes and gameplay and mobile first design, they're truly a development studio for the 21st Century, there's no doubt about it. So, why not take a look at what they've got to offer, right here on Kong Casino. Check out our top 5 below...
 Leprechaun Song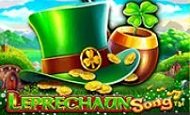 Do you hear that lilting melody in the background? It's the music of the fair Emerald Isle and their elusive yet lucky character, the Leprechaun. In at number 5 is Leprechaun Song Online Slot, an Irish luck themed video slot from Pragmatic Play. Set in the lush green rolling hills of Ireland, this is a bright, colourful and exciting moment from the studio. How about the numbers? Let's crack on with it: 5 reel, 3 rows, 20 paylines, bets range from 20p to £100 per spin and RTP 96.4%. This game is all about the added extras. Trust us, this lucky little leprechaun has quite a lot of extras up his sleeve. There's the usual scatters and wilds, rewarding free spins and multipliers, which is pretty standard stuff. But, we've not even touched on the bonus games that appear at random when you strike 3 scatters. Let's get to it! If you're selected for the standard bonus game, your rewards are anything but standard. Infact, you'll get 10 more free spins and a multiplier that will double your win. Get the coin collector round and you get a gleaming, golden 15 free spins and that double multiplier. Then there's the giant symbols that pop up randomly. At 3x3 it gives you the best chance there is at maxing your winning lines. The Pick a Fiddle game gives you five fiddles to choose from. Pick the right one and you'll be rewarded with a cash prize. When it comes to Irish luck games, this really is top of the morning stuff.
 Sweet Bonanza
"Come with me, and you'll be, in a world of pure imagination." Yep, we're taking a syrupy, sugary sweet trip to a Wonka style world filled with some of the most delicious treats there are! But don't worry about your waistline, the only thing getting bigger in this sweet temple will be your wallet. So, what sticky sweet statistics are backing this Sweet Bonanza UK Slot game up? Let's take a look, shall we? 6 reels, 5 rows, cluster pay engine means no traditional paylines here! Betting ranges from 20p to £125 per spin and RTP 96.52%. With a pretty high volatility you'll be treated to a sickly sweet sundae of winnings, with extra cherries on top, if you've got the nerve to sit it out. The cluster pay engine that powers the game means that if you land 8 or more matching symbols on the reels then you win. So there's not a strictly traditional payline number attached to this one. The game majors on the free spins when it comes to bonus features. Land 4 lollipops and you're trigger 10 free spins. But hiding amongst those 10 free spins are candy bombs. When they explode across the reels then you'll get a multiplier from anywhere between 2 and 100x your original bet. And you can keep on retriggering those free spins by landing 3 or more lollipops. This online slot really takes us back to the good old days of classic sweets and stuffing ourselves full of sugary treats. Except this time it's your wallet getting treated, and we can't say fairer than that.
 5 Lions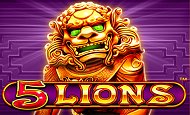 No, it's not the famous England World Cup anthem from the 90s, that was THREE lions. Instead, Pragmatic Play is treating us to two extra lions and a trip around a brightly colours, ancient Chinese style temple, full of lucky golden Fu Lions. So, what lucky ancient chinese fortune will this game bring us? Let's have a look see: 5 reels, 3 rows, 243 ways to win (and this expands within the game so strap yourself in), play from 50p to £250 per spin and RTP 96.5%. This volatility on this 5 Lions Online Slot Game is absolutely sky high, so prepare yourself. And we always love a good 243 ways to win game (as do Pragmatic Play, based on their portfolio) but things get even more interesting with 5 Lions. When you hit on a free spin round, this expands to an incredible 576 ways to win. Plus, the fu lions, who star as the game's wilds, have the ability to boost your prize on a payline, awarding multipliers of up to 40 times your stake. There's heaps of adjustable bonus rounds and little treats to take advantage of in this game, which is why it's one of our highlights in Pragmatic's portfolio. Take a spin and hope that those lucky ancient Chinese symbols can bring you some of that good fortune!
Jurassic Giants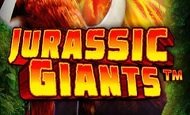 Travel not just in space, but also in time and truly walk with the dinosaurs with Jurassic Giants UK Slot Casino, our number 2 pick in our Pragmatic Play countdown. It's a showdown between the T-Rex and the Wooly Mammoth and they're bringing with them some larger than life winnings for your wallet. So, what statistics does this prehistoric yarn have to offer? Let's investigate: 6 reels, 4 rows, 4096 betways (wowzer!), playable from a minimum of 50p up to £250 and RTP 96.01%. This is one highly volatile online slot, so it definitely takes its cues from the fierce T-Rex! All the symbols are jurassic park style artefacts, like fire, volcanoes and dinosaurs. But there's also, weirdly enough, a diamond, which is the game's scatter. Get 10 diamonds and you'll trigger the free spins. And how many free spins do you get? 250. Yes you did read that right! Turns out Jurassic Giants can be very generous. And if you're lucky, the two Jurassic Giants - the T-Rex and the Wooly Mammoth - will come to blows and offer you a further multiplier of your jackpot, by a cool 5x.
5 Lions Gold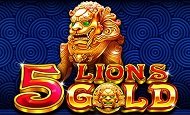 Another member of the 5 Lions franchise from Pragmatic tops our top 5 list. We're taking another trip back to ancient China and the team of Fu Lions who guard this intricate, golden gate. What good fortune will 5 Lions Gold bestow upon you this time? First up, the vital statistics behind this game: 5 reels, 3 rows, 243 ways to win, play from 18p to £90 per spin (lucky Chinese numbers at play, here! and RTP 96.5%. Just like its predecessor, 5 Lions Gold Online Casino is a really volatile game, so you may have fewer wins but they're going to be enormous when you do spin lucky. And with 243 ways to win the odds look to be in your favour! Look out for the yin yang symbol, that's your scatter and if you get 3 of them on a winning spin then you get… free spins! The hardest working bonus feature in the world of online slot casino games! You then get to choose from 7 different free spins and multiplier combos that stand to expand your wins by a significant amount. There's also some jackpot options in the offing, where you can win anywhere between 15 and an astonishing 20,000 x your total stake.