Crashout Fireworks Casino Game


Crashout Fireworks is an online casino game designed with the Crash and Burst mechanics by 1x2 Gaming. The game is relatively simple and has no reels or paylines. It is highly volatile but could land you a big potential win worth up to 2,500x your wager. The good thing is you can bet for as low as £0.10 and up to a maximum of £5 per round. Log in or join Kong Casino to play the Crashout Fireworks slot game online.
Game Info
Max Win: up to 2,500x
RTP: 96%
Reels: N/A
Paylines: N/A
Volatility: High
Provider: 1x2 Gaming
*All of the above values are subject to change at any time.
Crashout Fireworks Slot Review
If you're a fan of Crash casino games like Spaceman and Jetx, then you might like this game. 1x2 Gaming developed Crashout Fireworks after the massive acceptance and popularity of the former Crash games.
It follows the mechanics of other Crash games, with no reels or paylines. The only difference is that 1x2 Gaming used Fireworks for their Crash game. Hence, the name "Crashout Fireworks". 
The beauty of exploding fireworks can be a sight to behold, making it difficult for some to resist. And what's more, unlike typical slot games, Crashout Fireworks offers a live chat option, so you can choose to interact with other players. 
Join the many players of Crashout Fireworks on Kong Casino to enjoy this live interactive experience! You can also read on to learn how to play slot games online like Crashout Fireworks.

Quick Links
How To Play | Bonus Features & Jackpots | RTP & Volatility | Theme | FAQs
How To Play Crashout Fireworks
Crashout Fireworks is a unique, interesting, and entertaining game. It comes with an intuitive interface and can be simple to play. The first thing to do is place your bet. 
Crashout Fireworks comes with a dual betting console where players can place their bets. The game displays different bet options to choose from. It usually shows the top stakes too. Players can choose to go with those bets or select a preferred personal stake. Bets can also be placed through the three bar menu button in the top right-hand corner. Click on this, and then select 'Game Limits'. Stakes range from £0.10 up to £5.
Once you have done that, you wait for the game round to begin. The game starts with the launching of fireworks. If the fireworks soar higher, it pushes the multiplier up with it. That means the potential winnings may increase exponentially until the inevitable explosion. 
You can cash out at any point from when the fireworks launch in the sky. The aim is to cash out before the fireworks explode. However, the fireworks can explode at any point, and if you fail to cash out before the explosion, you lose your bet.
The potential win multiplier starts at 1.01x and increases as the firework rises. However, it is possible for the firework to crash at 1x. Possible winnings are calculated by the multiplier at which players made the cashout, multiplied by the bet amount.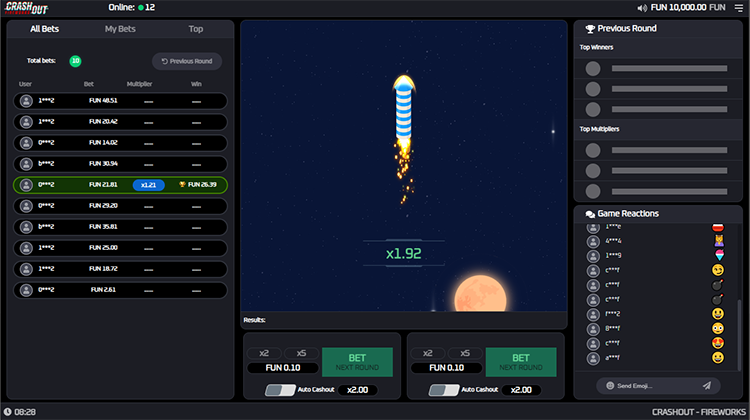 Crashout Fireworks Bonus Features & Jackpots
One pro of Crashout Fireworks is the flexibility that it offers players. It has advanced features that enable players to follow different courses of action. For instance, players can decide to set an auto cashout amount at the start of the game or wait to see and cashout as the game unfolds. The following are the available features in Crashout Fireworks:
Dual-Bet Feature 
Since Crashout Fireworks comes with advanced automated options, players can set two bets in one game round. 
Auto-CashOut Feature
Apart from the cashout button, which you can utilise at any time within the game round, the Crashout Fireworks game also has an auto-cashout button. With this, you can set a specific multiplier for automatic cashout before the launching of the fireworks. 
As the rocket soars, it triggers the multiplier of the bet, which could be x2 or x5 the wager. The cashout button helps players retrieve their possibly multiplied stakes before the fireworks explode.  
Live chat
This slot game has a chatbox where you can communicate and engage with other players. It can make the game more fun and interactive, especially with the plenty of emojis that players can use to express their emotions.
Besides that, you can catch up on previous bets and betting histories. You can also see your overall possible winnings as well as other players' potential payouts. This feature enables players to compare their progress with others.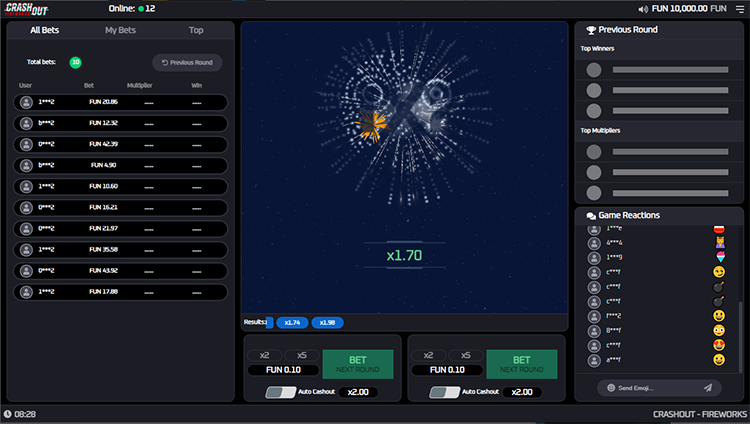 Crashout Fireworks RTP & Volatility
In Crashout Fireworks, players can potentially win up to 2,500x the bet. However, this possibility might take a while due to the game's high volatility. 
The Return to Player (RTP) value of the Crashout Fireworks game is 96%, which is right around the average industry standard.
Theme, Graphics & Soundtrack
1x2 Gaming did well to give the Crashout Fireworks game a simple but unique layout. The fireworks theme makes it stand out from other Crash games. Besides that, the game has a user-friendly interface that can be easy to navigate. There's the main game screen and different menus and buttons surrounding it.
At the start of the game, you'll see a rocket on the grass with a clear sky above. Once the rocket launches, it'll soar through space with different cool but minimal animations in the background. Let's not forget the soft background music that takes on the Lo-fi beats. At the end of the game round, the rocket can explode to form the 1x2 Gaming logo. A classy way to end the game, we must say!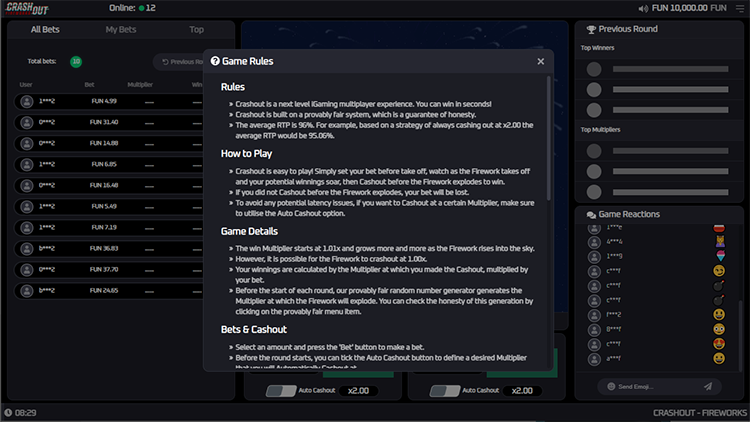 Crashout Fireworks Review Summary
Crashout Fireworks has lots of qualities that may make it appealing to players. From its unique and chic layout to its intuitive and engaging gameplay, players are likely to have an entertaining gaming experience. 
The music is relaxing, and you can interact with other players through the chatbox as you play. In addition, you can utilise the auto cashout functionality. The Crashout Fireworks slot offers a top potential prize worth up to 2,500x your stake!
Crashout Fireworks FAQs
What is the RTP of Crashout Fireworks?
The RTP of Crashout Fireworks is 96%.
What is the maximum win on Crashout Fireworks?
Players can potentially win up to 2,500x their bet on Crashout Fireworks. 
Does the Crashout Fireworks Slot game have free spins?
No. The Crashout Fireworks game does not offer a free spins bonus.
What's the volatility of Crashout Fireworks?
The volatility of Crashout Fireworks is high. 
What's the minimum bet of Crashout Fireworks?
Players can place a minimum bet of £0.10 on Crashout Fireworks. 
Can you play Crashout Fireworks Slot on a mobile phone?
Yes, you can play Crashout Fireworks on a mobile phone or any other device.
Can I win real money on Crashout Fireworks?
Crashout Fireworks is a real money slot game. Meaning you can bet with and potentially win real money. Stakes range from £0.10 up to £5 at Kong Casino.
Games Similar to Crashout Fireworks
*All values (Bet Levels, Maximum Wins etc.) mentioned in relation to this slot game are subject to change at any time.